CMSF Mobile Infantry Division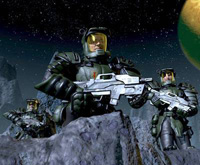 Rough Neck Platoon
Lead By: CMSF-Razak
Razak
The leader of Alpha squad, known also as "Razak's Roughnecks", he is the consummate professional soldier. Iron-willed, yet adaptable. Gruff, yet caring. He treats his troopers as if they were his family. In point of fact, they are his family. During the bug wars, he lost his left forearm and his squad in his first command patrol. He is determined to not let that happen again. Shepherding his troopers through countless missions, he leads by example, completing the missions and bringing his troops home. He lives by the creed, "Ask not what my troopers can do for me, but what I can do for my troopers."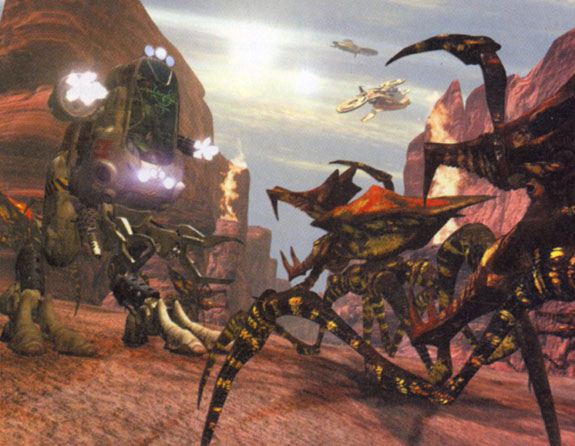 Marauder (Ape - Type 2)
Essentially a bigger and more heavily armed and armored power suit. The marauder is the M.I. equivalent to a Goliath. Bipedal, the marauder provides heavy fire support. Armed with machine guns, rocket launchers, mortar fire, and sensors, it can dish out some serious punishment. The suits are also equipped with very extensive and powerful array of sensory equipment. One serious drawback is that the suits can only be used for an hour at a time, due to low power capacity. And it's general lack of mobility and slowness are also liabilities.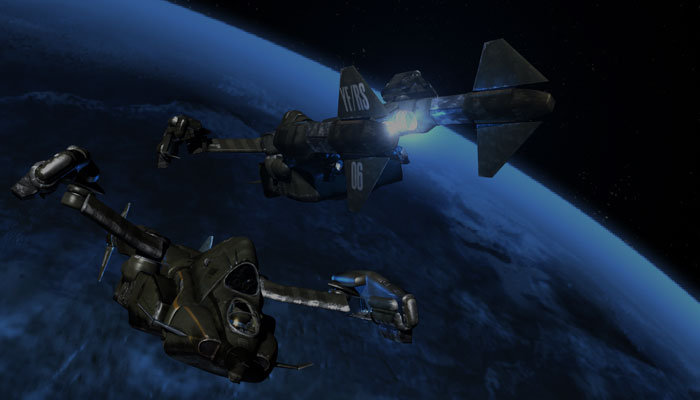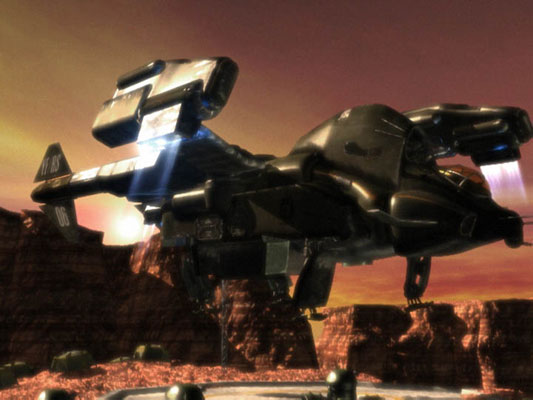 Drop Ship
This dropship is primarily used for HALO (High Altitude Low Opening) drops. The dropship releases dropsuited troopers and marauders through openings in the bottom and sides of the ship. It is rarely used in atmosphere, but it is capable of atmospheric flight. It needs to be refueled after two missions, and has a limited range of operations. The wings retract for storage onboard the Valley Forge, and for stabilization during edge of atmosphere HALO flights.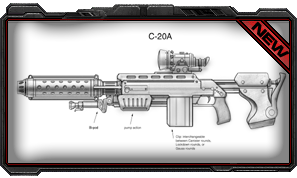 Morita Smart Rifle (MKI)
The troopers best friend, the Morita Rifle is the mainstay of the M.I. Trooper Arsenal. A compact, selective fire assault weapon capable of firing different loadouts depending upon the magazine type being used. It can fire caseless rounds and lasers. The magazine for the main weapon is located in the back stock. The Morita also has a secondary weapon slung underneath the main barrel. The secondary weapon can fire shotgun slug type rounds or mini-grenades. The magazine for the secondary weapon is located at the bottom of the Morita. The Morita can also fire underwater, and tends to run out of ammo at the most inappropriate times. An old adage comes to mind; "This is my weapon, this is my gun, one's for killing, the other is for fun."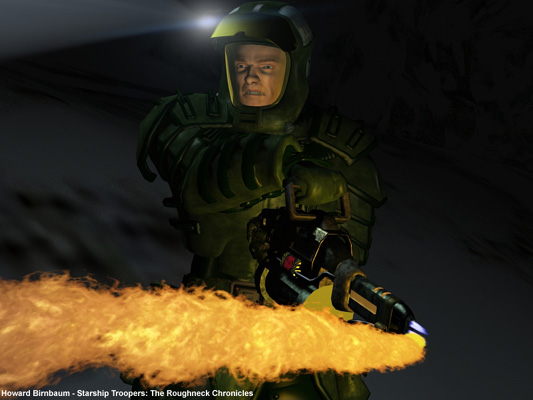 M.I. Fire Bat Weapon
Flame-thrower
Portable unit using a volatile mixture of chemicals to project an intense blast of fire that incinerates the target. In case of an emergency, a match and dropping of lower battle armor will suffice.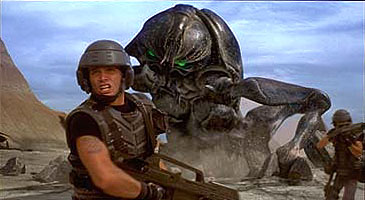 Power Suit
The body armor of the M.I. trooper, it is an essential piece of the Troopers arsenal. It provides protection and life support in hostile situations and environments. Completely self-contained (no farting please), it can operate in zero atmosphere environments. Equipped with a complete suite of electronic equipment, ranging from tactical overlays and maps, medical readouts, communications, and targeting, it can even receive e-mails. Targeting capabilities of the suit can be interfaced with any weapon or device for accuracy. Weapons can be carried on magnetic hardpoints on the Field pack. The suits have a maximum 24-hour charge before the suit gives out, trapping the trooper in their suit. There is also a jungle variant consisting of an open-faced helm and lighter armor in a camouflage pattern with a daring plunging neckline. Made from a spider silk polyorganic compound, it is light and comfortable to wear.

Roughneck Squad
Division Leader

CMSF-Razak,

Division Co-Leader

Fleet Admiral Riker
Platoon Leader

2nd Platoon Leader

CMSF-Mystic

Trooper

CMSF-StormGaurd

Trooper

Trooper

Trooper

Trooper

Trooper

Trooper

Trooper

Trooper

Trooper

Trooper

Trooper

Trooper

Trooper
Roughnecks: Starship Troopers Chronicles is a registered trademark of
Adelaide Productions, Sony Pictures Entertainment, Columbia Tri-Star
Television and the Bohbot Kids Network. No infringement is intended or
desired