Officer's Training Program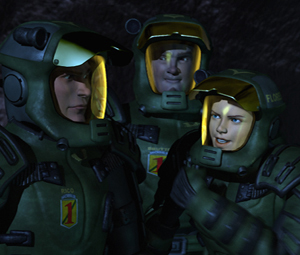 Welcome to the Officer's Training Program. If you are here it must mean you are interested in advancing yourself within the CMSF clan. I congratulate you on your commitment.
In order to apply for the OTP, you must first be at least a Staff Sgt, or the Naval equivalent of Petty Officer First Class

Next, you must get the recommendation of one CMSF Officer. Any officer can recommend you for this training program. Once you have that recommendation, you will need to be sponsored by a CMSF Flag Officer. This is a CMSF Leader, such as CMSF-Gen_Riker, FleetAdml_Riker, or CMSF-Boxer.
Each Flag Officer may only have 2 Cadets at one time, so if all Flag Officers are filled, you may need to wait your turn.
If accepted you will be assigned the Rank of Cadet Level 1.

There are 4 Levels of Cadet. You will spend 1 (one) week at each level. Once you finish level 1 you will go on to level 2, then 3, and finally 4.



During your training you will learn Leadership Skills, Tactics, Logistics, and Various other skills set forth by your trainer. Once you have Graduated training you will be commissioned as a 2nd LT, or the Naval Equivalent of Ensign, depending on your division.
All officers have the Following Requirements
1. You must have an active working email address. You can obtain a FREE one at www.Yahoo.com , www.Hotmail.com , www.Excite.com , or any number of free email providers.
2. You must create at least a minimal website to display your RANK, Medals, CMSF Information, etc... THIS MUST BE COMPLETED BEFORE YOU WILL RECEIVE YOUR COMMISSION.
If you need help in getting started with your website I recommend you go to www.tripod.com and take the free tutorial. Tripod.com also allows you to create, build, and maintain a website for FREE. There are others that provide free webspace, such as www.geocities.com but if you have never built one before, tripod is a good place to learn.
Well, that's about it. Good luck to you, and may the Force be with you!